Arbit Shatters Statewide Fundraising Records in First Two Months of Campaign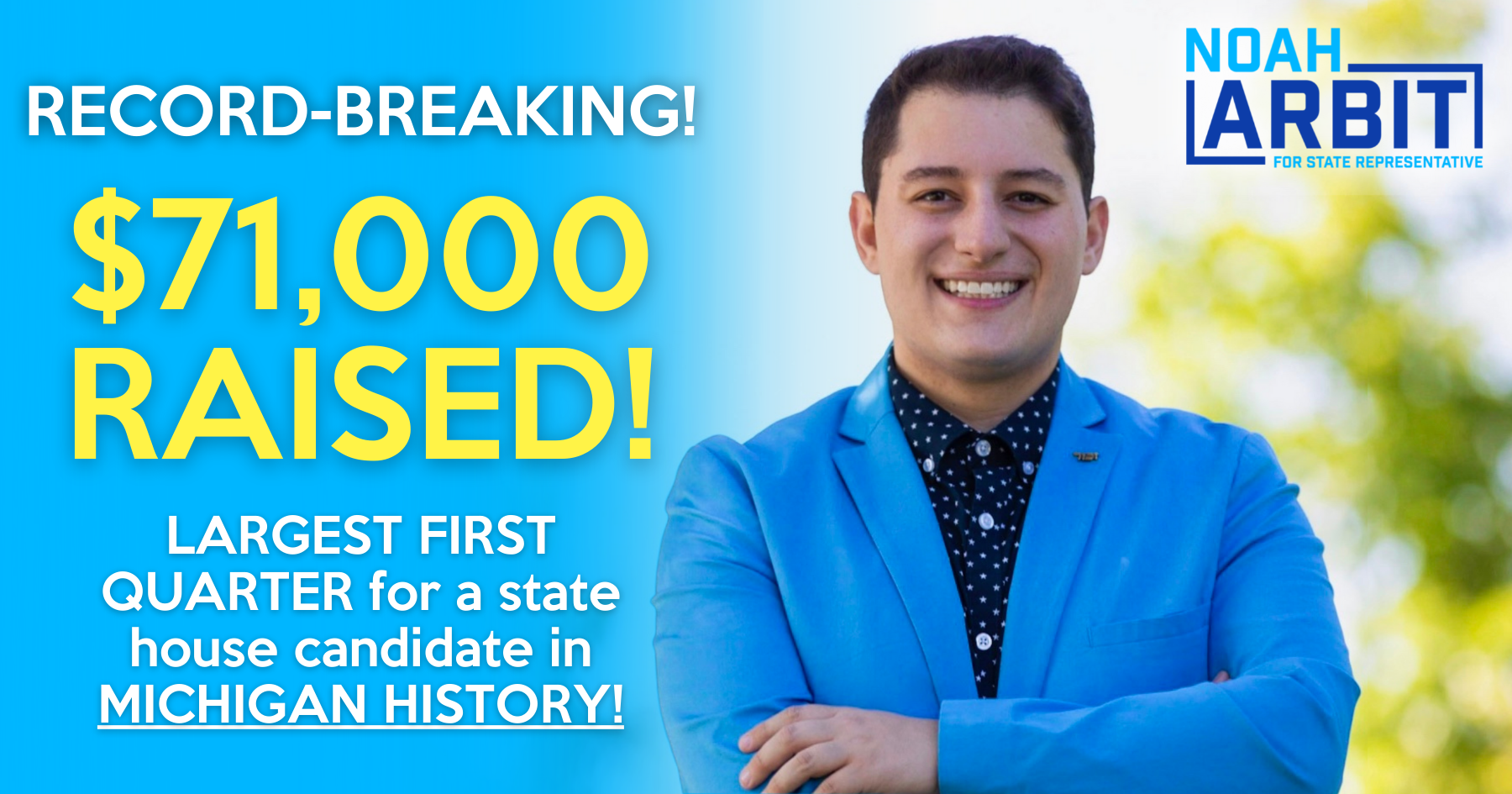 Noah Arbit Announces Record-Breaking $71,000 Raised in Under Two Months, Posts Largest First Quarter for a State House Candidate in Michigan History
Record-breaking first quarter powered by individual supporters demonstrates Arbit's deep communal support, places campaign in commanding position for Democrats' top 2022 pick-up opportunity
WEST BLOOMFIELD, Mich.
—
Ahead of the October 25th campaign finance reporting deadline,
Noah Arbit (D-West Bloomfield)
announced his campaign's top-line fundraising numbers.
Since launching his campaign for the Michigan House of Representatives on August 26th, Arbit has raised a total of
$71,277
through
425
contributions from
358
individual supporters.
91%
of contributors to Arbit's campaign reside in the State of Michigan, with the greatest proportion of contributions coming from residents of West Bloomfield. Arbit did not solicit or accept any PAC contributions.
Arbit's robust fundraising breaks the statewide record for the largest first quarter for any candidate for the state house in the history of the State of Michigan
, including all previous Democratic candidates running in a West Bloomfield-based house seat.
"To see the incredible amount of support for this campaign from so many members of our community – in just under two months – is beyond humbling and meaningful," Arbit said. "I am profoundly grateful to everyone who has contributed to help build this campaign at the outset, and to everyone who has put their faith in me to flip this seat. Our record-breaking first quarter makes clear that this district is energized and ready to send fresh, new leadership to Lansing. Greater West Bloomfield and Commerce deserve a state representative who leads with conviction, faith, and fidelity, and who exhausts every path to deliver innovative, common-sense solutions for Michigan. That's the kind of person I am, and the kind of leader I strive to be. I am so excited to continue meeting people across our district, to learn how the state can best help meet the needs of families, workers, students, and small businesses in our community – now and in the future."
###
About Noah:
Born and raised in West Bloomfield, Noah Arbit, 26, is a veteran organizer and community leader. A former staffer for Gov. Gretchen Whitmer and the Michigan House of Representatives, Noah founded and chairs the Michigan Democratic Jewish Caucus, and currently serves in the Office of Oakland County Prosecutor Karen McDonald. He grew up attending Bloomfield Hills Schools and earned his degree in political science and Jewish studies. He is a member of the ACLU of Michigan, Sierra Club, Young Professionals in Foreign Policy, the West Bloomfield-Lakes Area Democratic Club, Campaign Workers Guild, and the Jewish Labor Committee. Noah and his family are congregants at Temple Israel in West Bloomfield.