West Bloomfield Township Elected Officials Overwhelmingly Endorse Noah Arbit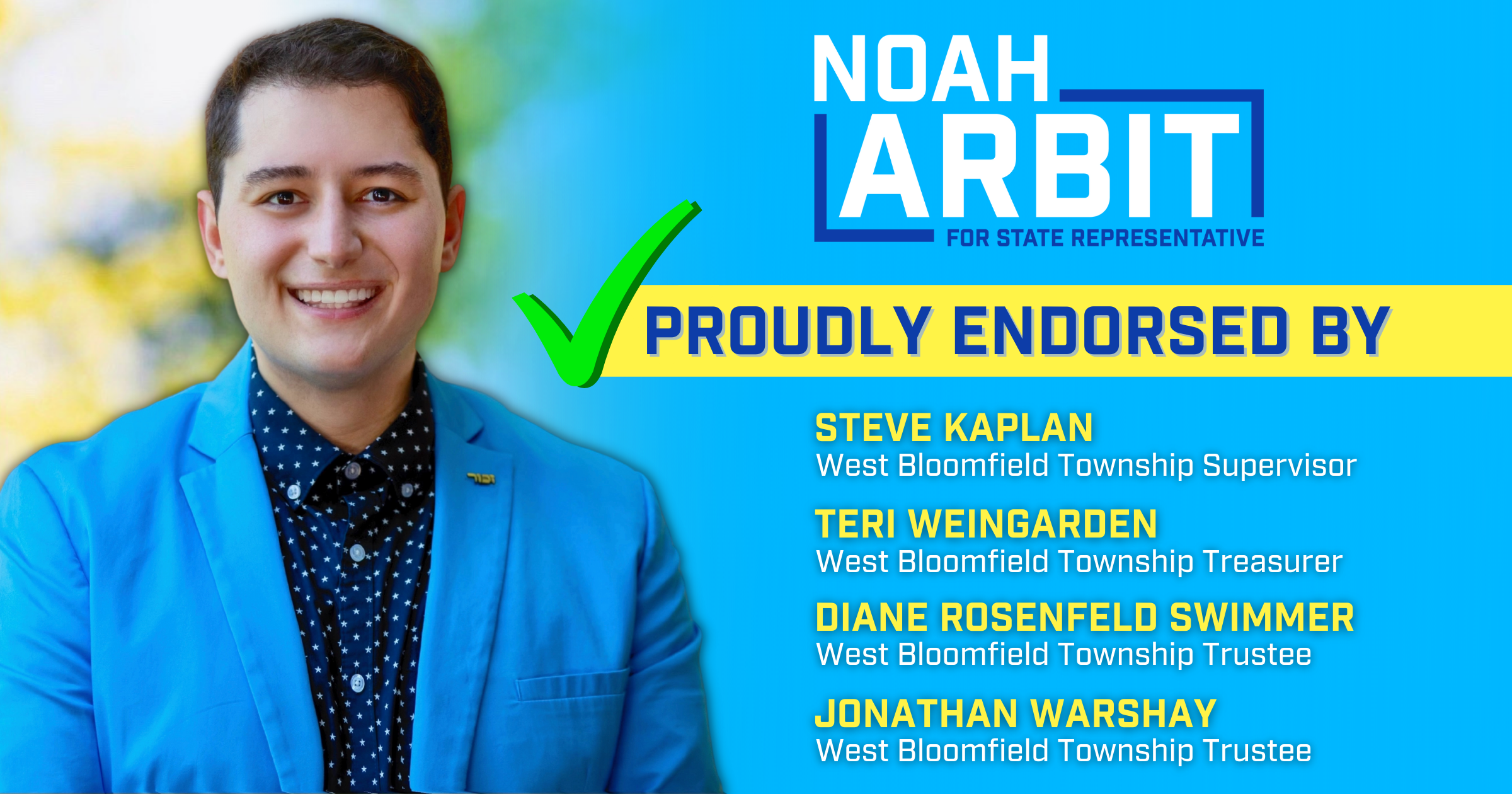 West Bloomfield Township Elected Officials Overwhelmingly Endorse Noah Arbit for State Representative
Supervisor Steve Kaplan, Treasurer Teri Weingarden, Trustees Jonathan Warshay and Diane Rosenfeld Swimmer give Arbit first major endorsements following campaign's record-breaking fundraising.
WEST BLOOMFIELD, Mich. — On the heels of a historic, record-breaking fundraising quarter, Noah Arbit (D-West Bloomfield) announced his campaign's first endorsements. A majority of West Bloomfield Township's elected officials are unified in support of Arbit's candidacy, including West Bloomfield Township Supervisor STEVE KAPLAN, Township Treasurer TERI WEINGARDEN, and Township Trustees JONATHAN WARSHAY and DIANE ROSENFELD SWIMMER. As West Bloomfield's chief election officer, Township Clerk Debbie Binder refrains from endorsing candidates in elections overseen by her office.
"I could not be more excited to support Noah Arbit to be West Bloomfield's next state representative," said Supervisor Steve Kaplan. "Noah is a serious, committed leader; his thoughtful, rigorous approach to the issues facing our community leaves no doubt that he will be an outstanding representative for West Bloomfield."
Treasurer Teri Weingarden stated, "Over many years, I have watched Noah Arbit emerge as a passionate, caring leader in our community. Noah is clearly the right person at the right time to represent West Bloomfield in the State House, and I trust him to deliver for our residents."
"We are proud to endorse Noah Arbit for the state house. Noah's passion and concern for the wellbeing of our community are apparent, and we know he will be a relentless advocate for West Bloomfield in Lansing," said Trustees Jonathan Warshay and Diane Swimmer.
Noah Arbit stated, "As a lifelong West Bloomfield resident, I am honored by the overwhelming support of our township's hardworking elected officials, some of whom I have known for over a decade. To have earned the trust and backing of our local elected leaders means so much to me. I look forward to working with Supervisor Kaplan, Treasurer Weingarden, Trustee Warshay, Trustee Swimmer, and the entire board to help find innovative, common-sense solutions to support West Bloomfield's families, workers, seniors, and business owners."
###
About Noah Arbit: Born and raised in West Bloomfield, Noah Arbit, 26, is a veteran organizer and community leader. A former staffer for Gov. Gretchen Whitmer and the Michigan House of Representatives, Noah founded and chairs the Michigan Democratic Jewish Caucus, and served most recently as Director of Communications for Oakland County Prosecutor Karen McDonald. Noah grew up attending Bloomfield Hills Schools and earned his degree in political science and Jewish studies. He is a member of the ACLU of Michigan, Sierra Club, Young Professionals in Foreign Policy, the West Bloomfield-Lakes Area Democratic Club, Campaign Workers Guild, and the Jewish Labor Committee. Noah and his family are congregants at Temple Israel in West Bloomfield.