Noah Arbit Announces Candidacy for State House in West Bloomfield District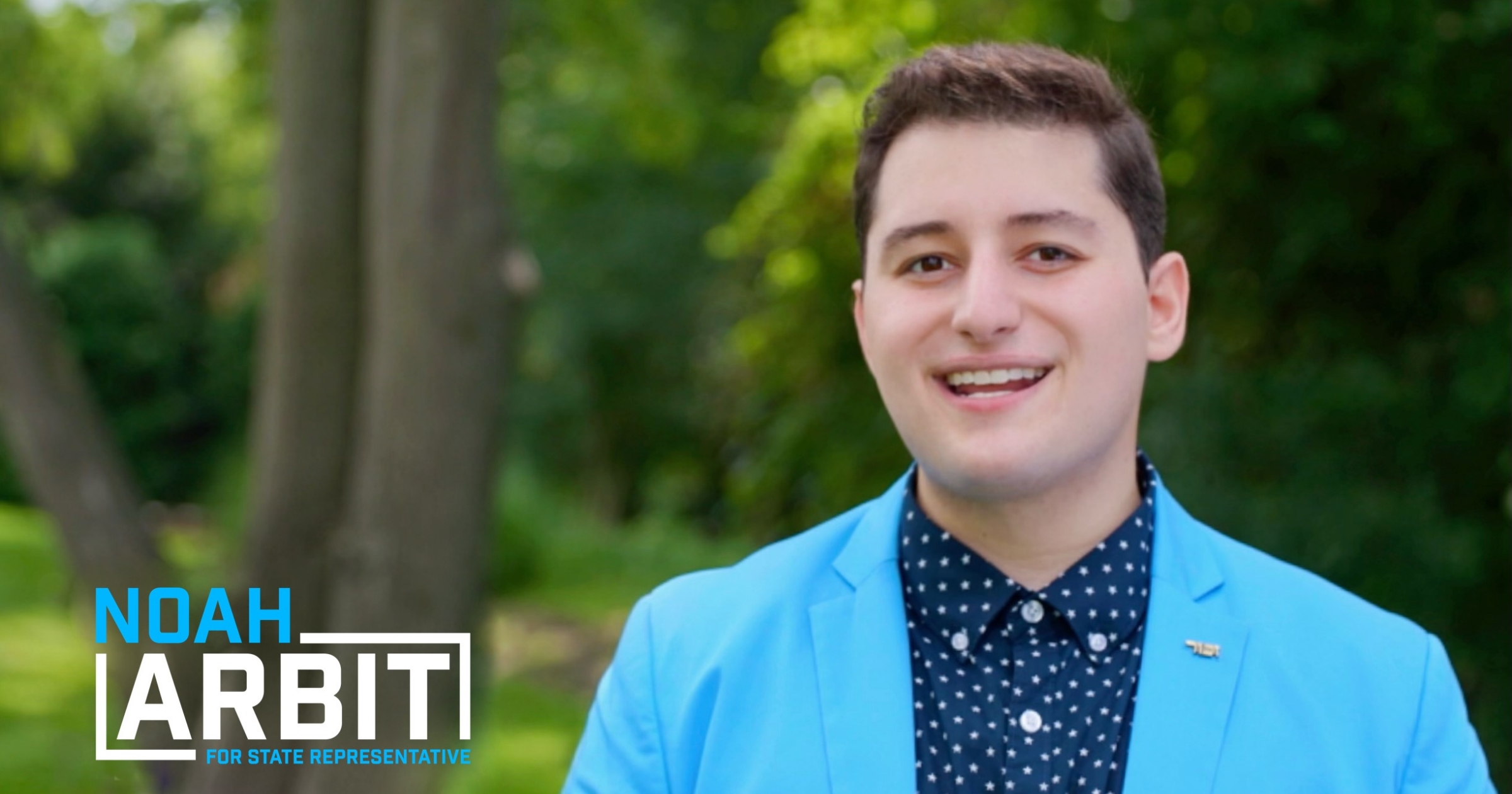 Noah Arbit Announces Candidacy for Competitive, West Bloomfield-Based State House District
West Bloomfield native, former Whitmer staffer, and Michigan Democratic Jewish Caucus chair to mount aggressive campaign to flip battleground district key to Democrats' path to House majority in 2022
WEST BLOOMFIELD, Mich.
—
Today, veteran organizer and community leader
Noah Arbit (D-West Bloomfield)
announced a campaign for state representative in the competitive, West Bloomfield-based 39th House District ahead of redistricting. Arbit
released an announcement video
highlighting his experiences growing up in West Bloomfield and Metro Detroit's close-knit Jewish community, which drew him to pursue public service.
Since the 2016 election, Arbit has been on the frontlines of Michigan's fight against hatred and extremism. As a member of the LGBTQ+ community and as the descendent of Jewish immigrants who fled persecution, Arbit cares deeply about rising bigotry and extremism, which compelled him to found the
Michigan Democratic Jewish Caucus
, a statewide organization that leads voter mobilization programming in the Jewish community.
"I have watched with growing anxiety as political violence, domestic terrorism, hate crimes, and conspiracy theories have risen precipitously – in Michigan and across the country. And I'm tired of extremist Republicans in Lansing who have failed to invest in Michigan – shortchanging our schools, small businesses, health, environment, and infrastructure.
We need bold, new leaders who will exhaust every path to find innovative, common-sense solutions for Michiganders. That's the kind of person I am.
That's why I'm running for the State House," Arbit said.
A product of Bloomfield Hills Schools, Arbit's experience in public service includes serving as a staffer for
Gov. Gretchen Whitmer
and the Michigan House of Representatives, in addition to his current role at the
Oakland County Prosecutor's Office
.
"The challenges Michigan faces are clear, but the solutions are well within our reach," Arbit said. "It's time we protect our diverse communities by rewriting Michigan's antiquated hate crimes law, boost smart investment in our schools, rein in the skyrocketing cost of prescription drugs, ensure access to critical mental health services, protect our water and wetlands, defend worker's rights and dignity, and build Michigan's economy for the 21st century."
Currently encompassing the western half of
West Bloomfield Township, Commerce Township, and the city of Wixom
, Michigan's 39th House District is one of the most competitive in the state. In 2020, the 39th District was both the top-targeted and most expensive seat for both parties – setting a record for most expensive state house race in Michigan history.
While Michigan's independent redistricting process is ongoing, a map reversing the 2010 gerrymander of West Bloomfield Township will yield a fairer seat for the constituent communities. Two-term incumbent
Rep. Ryan Berman's (R-Commerce Twp.)
decision to seek the GOP nomination for Attorney General highlights the growing consensus that a West Bloomfield-based house district is Democrats' number one pick-up opportunity on the path to a House majority in 2022.
Arbit's diverse experiences and deep local ties place him in a strong position to build the robust campaign required to flip this key bellwether district in 2022.
###
About Noah:
Born and raised in West Bloomfield, Noah Arbit, 25, is a veteran organizer and community leader fighting to beat back the tide of political extremism in Michigan. A former staffer for Gov. Gretchen Whitmer and the Michigan House of Representatives, Noah founded and chairs the Michigan Democratic Jewish Caucus, and currently serves as director of communications for Oakland County Prosecutor Karen McDonald. He grew up attending Bloomfield Hills Schools and earned his degree in political science and Jewish studies. He is a member of the ACLU of Michigan, Sierra Club, Young Professionals in Foreign Policy, the West Bloomfield-Lakes Area Democratic Club, Campaign Workers Guild, and the Jewish Labor Committee. Noah and his family are congregants at Temple Israel in West Bloomfield.